QUlVER
New Recruit






Trade Rep

: 0


Number of posts

: 4


Age

: 28


Gamertag

: QUlVER


GOW cash :

8


Subject: Wingman partner. Fri Nov 11, 2011 12:42 pm

---

I'm looking for a "Wingman" partner please have headset and communicate properly because communication is key for team of 2. If interested comment on this post or message me on Xbox live

Gamertag: QUlVER

The "I" is a lower case "L"

P.S. No one under 17!
Mutlien
Armoured Kantus






Clan

: NME


Trade Rep

: 0


Number of posts

: 1039


Age

: 46


Gamertag

: Mutlien


GOW cash :

817


Subject: Re: Wingman partner. Sat Nov 12, 2011 4:37 am

---

I'm not that great at the online thing but willing to give it a go with someone who can teach me a few tricks....and I have a headset.....add me:

multien
you got ownedzz
Rookie Gear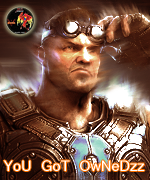 Clan

: XGL


Trade Rep

: 0


Number of posts

: 40


Age

: 24


Gamertag

: you got ownedzz


GOW cash :

21


Subject: Re: Wingman partner. Mon Nov 14, 2011 4:19 am

---

yeah im intrested...

as you said there needs to be alot of communication for a team of two

il add you and play if you want

im no stranger to gears multiplayer
Sponsored content

Subject: Re: Wingman partner.

---